Access your mydlink Cloud Anytime, Anywhere
Configure your ShareCenter for ultimate remote access and management in the palm of your hand – simply log into your account via personal web URL or mydlink Cloud app on your iPhone, iPad, Android, Windows or Blackberry device and experience the benefits of D-Link's industry-leading Cloud Services. Access and share digital content to your computer, tablet, and Smartphone without worrying about complicated network settings. Whatever your personal storage goals and needs are, the Cloud-supported ShareCenter delivers the versatility, performance and remote accessibility your home or small business demands.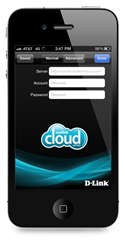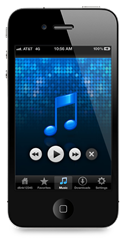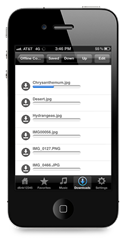 Share
ShareCenter devices connect directly to your home network, delivering storage and sharing solutions to all your connected devices. That means while you're backing up work documents from your laptop, the rest of the family can stream stored photos, music, and movies to their tablet or smartphone. And with simple yet powerful privacy settings, you'll have total control over file access and distribution.
Stream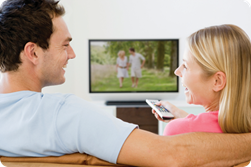 Now that you've backed up your favorite music, photos and movies, wouldn't it be great if you could stream and share them to all of the devices you already own? With ShareCenter, you can. ShareCenter makes it easy to wirelessly stream digital media to your entertainment systems and mobile devices. Keep your digital world at your fingertips with ShareCenter.
Protect
Don't lose your precious family movies, photos and other important files in the event of a hard drive failure. Protect your memories, your work, and your entertainment — give yourself peace of mind with the security and convenience of ShareCenter storage.
Surveillance Center
Monitor your home or office with the integrated Surveillance Center add-on that works directly with your D-Link network cameras to deliver a comprehensive surveillance solution. Offering support for up to four D-Link network Cloud cameras, the Surveillance Center allows you to keep an eye on what matters with versatile recording modes including continuous, motion-detection and scheduled recording. Pan, tilt and zoom from live video for smooth, responsive control, or take snapshots for later review. Give your home or office the comprehensive protection it deserves, with the Surveillance Center from D-Link.
Manage
ShareCenter solutions combine feature-rich customization options with the ease of use you've come to expect from D-Link. With the included software, users can quickly and easily create schedules for real-time, full or incremental backups, while also setting storage quotas for specific users and groups. ShareCenter offers robust content management without the hassle.
The mydlink Cloud Service also supports 2-way data syncing so you'll always have the latest data on the ShareCenter and your devices.  By simply adding your projects and documents into the sync folder, you can continue working from wherever you left off without the hassle of constantly copying files from device to device.
How it Works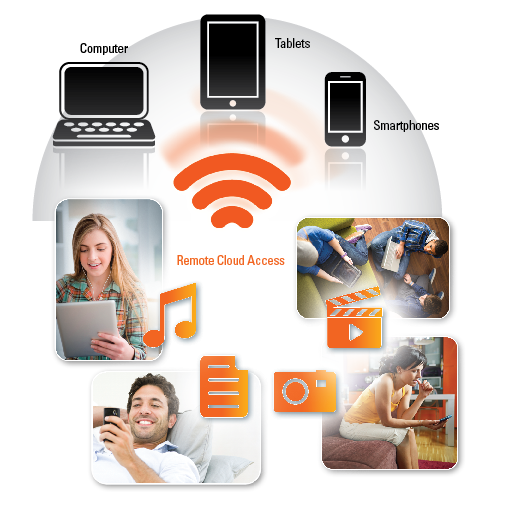 Cloud enabled
Number of bays: 4 bays
Internet Streaming
Additional Applications
App enabled
NVR functionality
Control: Cloud Control + Remote Control
Ethernet speed: Gigabit Ethernet
Ports: 2 ports
USB standard: USB 2.0
Standards
IEEE 802.3
IEEE 802.3ab
IEEE 802.3u
IEEE 802.3ad
TCP/IP
CIFS/SMB
AFP
NFS
UPnP AV
Bonjour
DDNS
NTP
FTP over SSL/TLS, FXP
HTTP/HTTPS
WebDAV
USB 2.0
DHCP Client
PnP-X
LLTD
Supported Hard Drive Type
3.5" Internal SATA, SATA II and SATA III drives
Ports
4 SATA I/II/III 3.5-inch hard drive bays, supports hard drive capacities up to 3 TB
2 10/100/1000 Gigabit Ethernet Ports
1 USB 2.0 Port
Clients Supported
Mobile Apps Support
iOS (iPhone/iPad)
Android
Blackberry
Microsoft Mobile OS
LEDs
LAN (on LAN ports)
Ethernet (on Ethernet ports)
OLED Display Screen
128 x 32 OLED Display Screen
Drive Management
Multiple Hard Drive Configurations: RAID 0/1/5/5 + Hot Spare/10/JBOD Standard
RAID migration from Non-RAID to RAID 1/5, RAID 1 to RAID 5
Hard Drive Formats
Internal: EXT4
External: FAT16/32, NTFS
Scandisk
S.M.A.R.T.
AES based volume encryption
Disk Roaming
RAID Roaming
Account Management
Windows Active Directory Service support for Windows Server 2003/2008
User account management
Group account management
User/Group Quota management
Network Share management
ISO Mount management
Batch User Creation
Download Management
HTTP/FTP schedule download
Peer to Peer (P2P), aMule
Backup Management
Schedule Backup from PC to NAS
Schedule Local Backups
Schedule Remote Backups (Rsync, Remote Snapshot)
Apple Time Machine support
USB Backups
Cloud Storage Backup (Amazon S3)
Device Management
Web interface with support for Internet Explorer 7, Firefox 3, Safari 4, Chrome 3, and Opera 10 or above
Easy Search Utility
E-Mail Notifications
SMS Notifications
System/FTP log
Yahoo! Widget
SNMPv2
Resource Monitor
Add-ons Packages
Power Management
Power Saving mode
Auto Power Recovery
Schedule Power on/off
Smart Fan control
D-Link Green Ethernet
Auto-offload system when UPS is low on battery
Network UPS
Remote File Sharing
Web File Server
FTP Server
WebDAV
AjaXplorer
File Sharing
Max. User Accounts: 512 (non ADS)/800(ADS)
Max. Groups: 64 (non-ADS)/200 (ADS)
Max. Shared Folders: 128 (without P2P)
Max. Concurrent Connections: 64 (Samba)/10 (FTP)
Power Supply
External Power Supply : DC 19 V/4.74 A Switching
Power Consumption
Normal mode: 53 W
Sleep mode: 13.5 W
Operating Temperature
0 to 40 ?C (32 to 104 ?F)
Storage Temperature
-20 to 70 ?C (-4 to 158 ?F)
Operating Humidity
5% to 90% (Non-condensing)
Dimensions (W x D x H)
Device: 5" x 7.9" x 7"(128 x 200 x 178 mm)
Packaging: 9.52" x 10.94" x 10.04" (242 x 278 x 255 mm)
Weight
Device: 5.95 lbs (2.7 kg)
Packaging: 8.86 lbs (4.02 kg)
Certifications