D-Link's DSN-5210-10 iSCSI SAN array is an H.A. capable, data center-class network storage solution in a 2U rackmount form factor, ideal for small to medium enterprises.
The heart of the DSN-5210-10 is a powerful 10Gbit iSCSI System-on-a-Chip (SoC) capable of handling over 80,000 I/Os per second. The DSN-5210-10 supports 24TB of raw capacity using 2TB drives and overall scalability to 168TB. The DSN-5210-10 can be easily implemented as nearline or primary storage.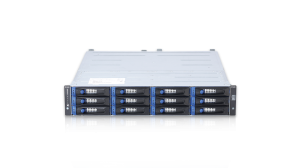 Host Interface
The DSN-5210-10 supports Multi-path I/O (MPIO), Multiple Connections per Session (MCS), and Link Aggregation Groups (LAG) for unmatched network flexibility, performance and resiliency, allowing their 1GbE data ports to be grouped together for up to 850MB/s bandwidth.
High Availability (HA)
The DSN-5210-10 primary array, based on a single controller, provides an ideal platform for nearline storage requirements such as disk-to-disk backup, data archiving and video surveillance.
With the addition of a secondary controller (DSN-520) the DSN-5210-10 can provide the failover and redundancy capabilities required for mission critical scenarios such as Virtual Machine (VM) shares, database applications, Online Transactional Processing (OLTP), email applications, storage consolidation and your other primary storage needs.
Expansion Options
The DSN-5210-10 primary array supports 12 internal SAS/SATA1 hard drives and with the addition of up to six DSN-5000-10 expansion arrays, can scale to a total of 168TB raw storage capacity. For high availability operation, a secondary I/O board, DSN-500, is installed in the DSN-5000-10 expansion array.
iSCSI for IP Networks
Storage Area Networks (SANs) have traditionally been reserved for complex Fibre Channel networks. The recent introduction of iSCSI has extended the powerful centralized storage capabilities of SAN technology to IP networks. By utilizing existing Ethernet technology, the costs associated with Fibre Channel switching, separate host bus adapters, expensive storage subsystems and administration is significantly reduced. iSCSI SANs leverage the Ethernet infrastructure and standards that are already familiar to most IT personnel.
System-on-a-Chip (SoC) Implementation
By utilizing a SoC design, the DSN-5210-10 combines both networking and storage functions into a single specialized Application Specific Integrated Circuit (ASIC). This SoC combines 10Gbps iSCSI, TCP & IP offload, embedded processors and storage virtualization firmware onto a single chip. The tight integration of these functions eliminates interoperability, timing and support issues found in competitive products that offer a "discrete implementation" wherein various components are selected separately, then assembled.
RAID Support
D-Link's xStack Storage iSCSI SAN arrays support RAID levels 0, 1, 1+0 and 5 configurations (striped sets, mirrored sets, striped mirrored sets and parity sets) for data protection and performance. The maximum number of drive members on a volume is the following:
RAID-1 and RAID-10: 32 HDDs
RAID-5: 17 HDDs
RAID-O: 16 HDDs
Embedded Centralized Storage Management
All of the D-Link xStack Storage products share a common easy-to-use configuration and management GUI console that allows you to manage multiple units from a single screen. The intuitive wizards ensure you will have your SAN out of the box and ready to go in minutes.
The embedded, user-friendly IP-SAN Device Manager (IDM) provides a comprehensive console for system management. Boasting a rich set of management features, this suite of utilities allows monitoring and control of the SAN array via the Storage Management Initiative-Specification (SMI-S) command set. With a secure server, users can remotely configure and monitor their SAN arrays over the Internet.
Advanced Management Features
The DSN-5210-10 also provides an advanced set of features for efficient management and optimal storage performance.
For the fastest RAID performance offered in the industry, D-Link's adaptive cache management provides write coalescing and multi-stream read-ahead on a volume basis, optimizing cache utilization and performance in an application-dependant manner. Volatile cache data protection is afforded via an on-board battery supporting 2GB of cache memory for a minimum of 72 hours. A write-back or write-through cache memory policy can be selected manually or automatically, depending on the status of the battery's charge.
The DSN-5210-10 supports jumbo frames and VLAN tagging to segregate traffic into isolated zones for secure access, improving network throughput and reducing CPU overhead.
D-Link's volume virtualization technology utilizes the concept of storage extents, which are the fundamental building blocks used to enable features such as RAID, online capacity expansion, volume reconfiguration and migration. Each disk drive can contain multiple and divergent RAID configurations instead of requiring dedication to a single RAID set. This technology allows for the support of mixed disk drive capacities for volume creation. Volume capacity expansion and RAID level migration are performed online with minimal impact to users. Additionally, volume growth can occur without volume migration or reconstruction. Users can quickly deploy a SAN and simply add more drives as needed.
An iSCSI SAN array can prove to be a valuable tool to supplement a network storage foundation. Whether providing a low-cost block-based solution for data backup and recovery, replacement of Direct Attached Storage (DAS) or providing a primary storage solution, the DSN-5210-10 will provide the performance and functionality needed.
1 SATA Drive support for single controller configuration only.
Features:
Form Factor: 2U Rackmount
Maximum Storage Capacity:168TB Max Storage Capacity
Network Connectivity: GbE Connectivity
Data Ports (per controller):8xGbE Ports per controller
HA Capable
Drive Support
Number of bays: 12 Bays
Expandable: Scalable to 84 drive bays
Throughput Performance: 850 MB/sec throughput
Supports multiple RAID types and volume segments on single drive, optimizes capacity utilization and maximizes performance, supports volume reconfiguration on the fly.
RAID Support: RAID 0, 1, 1+0, and 5
Transactional Performance: Up to 80,000 IOPS
Drive Roaming
RAID Roaming
Controller Cache: Controller Cache 2 GB
Power Supply: Hot-swappable Power Supply
3-Year Warranty
Specifications
DSN-5210-10
Eight 1GbE Copper per controller
Drive Bays
12, Expandable with DSN-5000-10 Expansion Arrays to 84
Drive Interface Support
System Memory
Cache Memory
Battery Backup for Cache
Standard (Approximately 72 hours on full charge)
Bandwidth
Storage Capacity
24TB Capacity with 2TB Hard Drives
Additional DSN-5000-10 Expansion Arrays Provide 168TB Total Capacity
Operating Systems Supported
Windows Vista® 32-bit & x64 (Ultimate & Enterprise) w/Built-in iSCSI initiator
Windows Server® 2003 R2 | SP1 32 & 64-bit (Standard & Enterprise) with v2.07 iSCSI initiator or later
Windows Server 2008 Enterprise 32 & 64-bit with Built-in iSCSI initiator
Windows XP Pro® 32 & 64-bit with v2.07 iSCSI initiator or later
Windows 2000 Advanced Server – No MS iSCSI Initiator support, Qlogic HBA only
Red Hat® 7.3
Red Hat Enterprise AS update 5 (64-bit)
Red Hat Enterprise 5 update 2 (64-bit)
SuSE® Professional 9.3 32-bit
SuSE Enterprise Server 10.2 32-bit
Sun Solaris® 10 build 6/06
IBM AIX 5L
Microsoft Hyper-V
VMWare ESX Server® 3.02 & 3.5
VMWare ESX Server 4.0
Virtual Iron v4.2
Citrix XenServer® v4
Mac OS X® (10.4 & 10.5)
Supported NICs, iSCSI Accelerators and iSCSI HBAs
Intel® Pro 1000MT & XT [1GbE]
Intel Pro 10000 CX4 [10GbE]
Myricom® 10G-PCIE-8A-C+E [10GbE]
Chelsio S310X-SR-XFP [10GbE]
Neterion® Xframe® II & Xframe E [10GbE]
Alacritech® SES2104ET (Drivers: SNP 9.1.0.1092 & 7.3.1.0)
Alacritech SES2102ET (Drivers: SNP 9.1.0.1092 & 7.3.1.0)
QLogic® 4010C, 4052C, & 4062C
Host Interface
iSCSI Draft 20 Compliant Initiator
Connections
CHAP Authentication
Access Control of Management
iSCSI/TCP/IP Full HW Offload
Jumbo Frames Support
LAG Support (Link Aggregation)
Up to Eight LAGs (Static LAG)
VLAN Support
Up to Eight 1-to-1 Mapping between IP Subnet and VLAN. Multiple VLANs per physical port with VLAN Tag
All physical ports in LAG belong to same VLAN (IEEE 802.1Q Tag)
Flow Control
RAID Controller
Integrated in ASIC Chip (one per controller)
RAID Support
RAID Levels 0, 1, 1+0 and 5 (Striped sets, mirrored sets, striped mirrored sets and parity sets)
The maximum number of drive members on a volume is the following:
RAID-1 and RAID-10: 32 HDDs
RAID-5: 17 HDDs
RAID-O: 16 HDDs
Volumes
1,024 Virtual Volumes (256 accessible per initiator)
Target Nodes
Online Capacity Expansion
Hot Swappable Drives
Instant Volume Access
Free Space Defragmentation
Auto-Detection Failed Drive
Auto-Rebuild Spare Drive
RAID Level Migration
Drive Roaming in Power Off (configured drives are not bay-specific)
Micro Rebuilds
Embedded IP-Based Management GUI
Create, manage, expand and monitor storage pool, volumes and RAID
Event manager to view and persist events
Firmware Field Upgradeable
SMI-S Version 1.1
Event Log

Supply Type
Dual Redundant Hot Swappable 2U 430 Watt
Input Voltage
85-264 VAC (auto-switching)
Input Frequency
Input Current
Power Factor Correction
Operating Temperature
41° to 104°F (5° to 40°C)
Storage Temperature
-4° to 158°F (-20° to 70°C)
Operating Humidity
10% ~ 80% (Non-condensing)
Storage Humidity
5% ~ 95% (Non-condensing)
Form Factor
2U Industry-standard 19-inch Rack
Dimensions (W x D x H)
17.6in x 19.5in x 3.5in (44.7cm x 49.5cm x 8.9cm)
Weight
Emissions
CE Mark, FCC Class A, EN55022 Class A, EN55024
Safety
UL/CUL, CSA International
RoHS
Warranty
3-Year Limited (Manufacturer's warranty on Hard Drives)
Extended Warranty
Available (see Ordering Information below)
Support
1-Year (9 hours per day / 5 days per week Technical Support)

DSN-5210-10
xStack Storage® 8x1GbE iSCSI SAN Array, 12 Bays, 2U, w/ Primary Controller, w/o Drives, with Trays
DSN-520
xStack Storage® 8x1GbE Secondary iSCSI SAN Controller for DSN-5210-10
DSN-5000-10
xStack Storage® iSCSI SAN Expansion Array, 12 Bays, 2U, w/ Primary I/O Board, w/o Drives, with Trays
DSN-500
xStack Storage® Secondary I/O Board for DSN-5000-10
DSN-210-SW
SureSync Replication & Synchronization Software
DSN-5210-10-LW
Extended Warranty for DSN-5210-10
DSN-520-LW
Extended Warranty for DSN-520
DSN-5000-10-LW
Extended Warranty for DSN-5000-10
DSN-500-LW
Extended Warranty for DSN-500
1 SATA Drive support for single controller configuration only.
All references to speed are for comparison purposes only. Product specifications, size and shape are subject to change without notice, and actual product appearance may differ from that depicted. See inside package for warranty details